Yesterday's "day of rest and relaxation" left me itching for some fitness today, so today's sunshine and crisp temperatures were just begging me to put the boys in the stroller and run my little heart out. After a quick doctor's appointment and story hour at the library, we hit the road for a 7 mile run out to the beach and back. I love that I can walk to the library with the boys and we had a great time at story hour. The boys are little social butterflys and it's SO fun to watch. They got their exercise crawling all over and playing with the toys after the organized class and then it was time for me to get my exercise while they napped. It was GLORIOUS! I'm not gonna lie, the bridges are always a challenge, especially with the stroller, but the sense of accomplishment I get when I hit the top is so fulfilling, I forget how hard the ascent was. I hope this cool weather sticks around for a while. It definitely makes for a more enjoyable workout.
Upon returning home, it was time for an upper body workout. I did some light weights on Saturday but it felt like it had been a while since I had really challenged my upper body so I decided to hit it heavy and fast. I did the following workout from Peanut Butter Fingers with a couple adjustments to suit my training goals.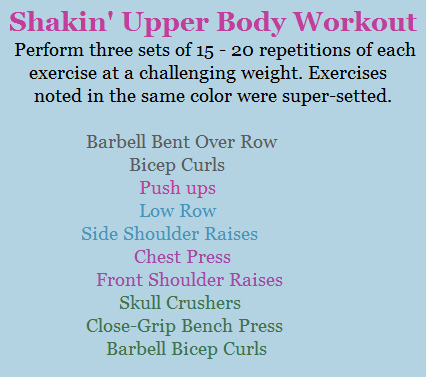 My biceps are my strong suit and my triceps need some attention, so I substituted tricep kickbacks for the barbell bicep curls at the end. I also finished out the workout with 2 minutes of various dumbbell triceps exercises to really hit my target zone.
As usual, I also completed 5 minutes of plank variations. I'm still trying to tighten up and tone my midsection as I fix my diastasis recti. One day at a time...
I'm really looking forward to a leg workout and some speedwork tomorrow. What are your fitnes plans for the week? Make em great!